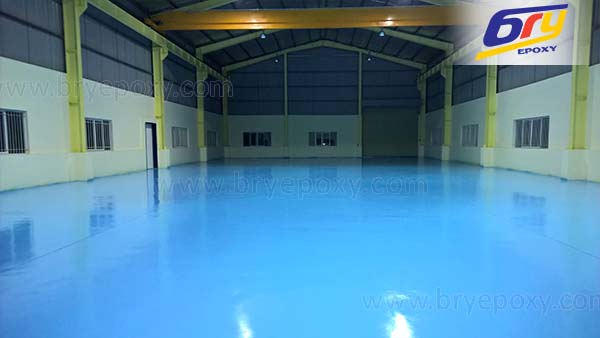 What is Antistatic epoxy coatings?
Antistatic epoxy coating is a thick floor coat which is electrically conductive and antistatic to deliver the highest-performance protection for equipments, workshops, laboratories … in other words, it is a plastic covering on the surface . Antistatic epoxy coating is designed to reduce the static electricity in your workplace to the lowest level.
Outstanding static resistance with epoxy anti-static floor coating:
In Vietnam, a tropical country with hot weather and main transportation being two wheelers, it seems that the
dangers of static electricity is not much. But when you work in the  manufacturing factory of electronics, chemicals or pharmaceutical processing, static electricity could be a worrisome hazard.
Antistatic epoxy floor coating provides extremely well antistatic capabilities for a lot of industries from manufacturing to packaging and distributing businesses. If controlling static electricity is the top concern of you, our antistatic epoxy floor coating would be a perfect choice for you.
Benefits of anti-static epoxy floor coating:
If you wonder about what benefit the Epoxy antistatic coating can bring, the following reasons may make you change your mind:
Antistatic capability: be electrically conductive to control static electricity and prevent electrical shock in the workshop.
Durability: it is especially durable, will last more than 10 years if being maintained properly (traditional epoxy floor coating lasts only 5 to 7 years).
Good waterproofing and chemical resistance
Quick installation, creating a shiny, smooth and easy to clean surface
Diversity: there is a variety of colors and styles. You can not only choose the color and style you want for your floor but also upgrade the floor with chemical additives according to work environment requirement.
Environmentally friendly
At BRYepoxy, with a team of skilled and professional workers, we ensure all of our installation is done in conformity with the requirements  of Customers to ensure the best quality. What you need to do is call us and wait for a nice floor that meets your needs.
For futher information of epoxy  as well as finding solutions for your workshop, please contact us, our team of advisors will answer all your questions right away.
B.R.Y VIET NAM TECHNOLOGY COMPANY LIMITED
Address: 4M14 Lane 94, Nguyen An Ninh Str.,Tuong Mai Dist.,Hoang Mai Ward, Ha Noi City, Vietnam
Telephone: (+84-4)66873254                                        Hotline :(+84)904 704 969
Email: bryepoxy@gmail.com