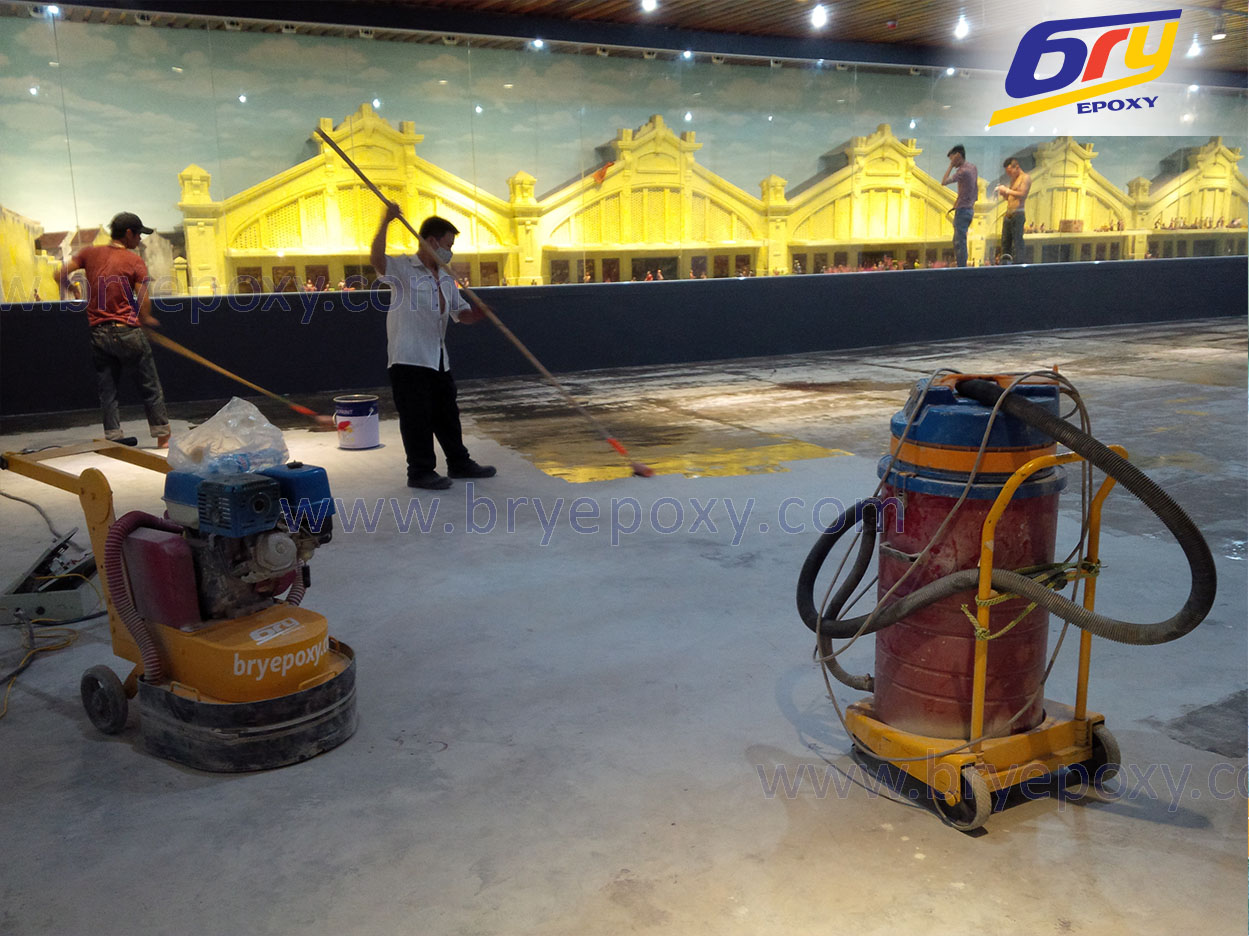 What are tips in the process of epoxy coating installation?
Many customers often come to us looking for advice about how to prepare the surface to achieve the best quality. Many of them share that they have problems in supervising the installation process, that they do not understand the steps of installation. This leads to the installers doing recklessly and deliberately cutting materials to reduce costs, resulting  in quality of epoxy coated floor severely affected, with signs of peeling off after few months. Understanding this, we would like to share some general tips in epoxy installation process as follows:
1 – Conditions of concrete: compressive strength of the concrete should be minimum 25N / mm², it means  concrete must reach MAC 250 or more.  Concrete must be designed to prevent moisture and reverse osmosis. Concrete is at least 28 days old.
2 – Prepare the surface prior to application: Humidity of the floor before epoxy coating must be less than 5% (measured by moisture meter). Surfaces must be thoroughly cleaned and free of dirt, oil and grease stains by using dedicated chemicals or other measures. Rough concrete surface should be filled and repaired with suitable materials.
3 – Machinery in Epoxy coating application: Refer here
4 – Some tips in the application process:
Use a dedicated mixer with speed of about 600rpm .
Mix in enough time for two components to be consistant, do not mix for too long to avoid air bubbles.
Use epoxy paint immediately after mixing. Do not use any additive or mixing ratio other than ones in the manufacturer's instructions.
Use the epoxy primer of the same system to achieve maximum efficiency.
Use materials of the same production batch, apply at the same time to achieve uniform color.
Use rollers or paint sprayer.
5 – Tip: appropriate application temperature is from 10°C to 40°C. Maximum air humidity is 80%. Dew point on the surface is at least 3-5 °C.
For futher information of epoxy coating installation process as well as finding solutions for your workshop, please contact us, our team of advisors will answer all your questions right away.
B.R.Y VIET NAM TECHNOLOGY COMPANY LIMITED
Address: 4M14 Lane 94, Nguyen An Ninh Str.,Tuong Mai Dist.,Hoang Mai Ward, Ha Noi City, Vietnam
Telephone: (+84-4)66873254                                        Hotline :(+84)904 704 969
Email: bryepoxy@gmail.com