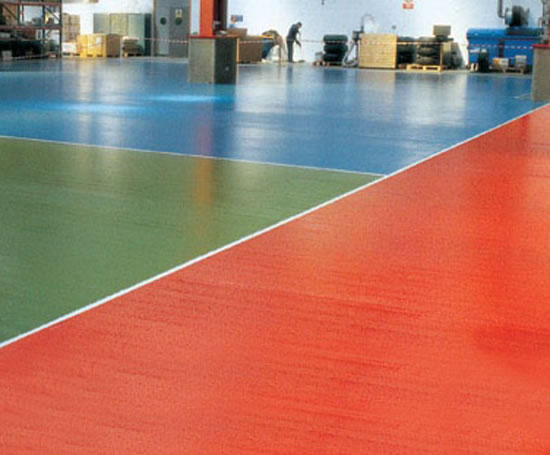 What are Epoxy Floor Coatings?
Epoxy Floor Coatings  is a type of polymer material that begins as a liquid and is converted to a solid state through a controlled chemical reaction. Because of this change in state, epoxy floor coatings are typically a mechanically strong and chemically resistant type of flooring. Epoxy floor coatings are highly adhesive during the conversion from liquid to solid allowing them to create a secure bond with both new and old concrete flooring surfaces. There are a wide variety of applications and uses for epoxy coatings including epoxy floor paint in commercial and industrial settings as well as for coatings on industrial equipment or machinery. Epoxy floor coatings can also be used as vapor barriers over concrete slabs and foundations in new construction.
How Epoxy Floor Coatings Work?
Epoxy floor coatings are typically comprised of two main components, resins and hardeners. The resin component in an epoxy floor coating is light or clear in color and nearly odor free. Hardeners on the other hand, are dark and have a strong characteristic "ammonia-like" smell. When these two components are mixed together during the epoxy floor coating application process, a chemical reaction begins. This chemical reaction turns the epoxy floor coatings into tough, rigid, and plastic-like materials, which are very durable, waterproof, and chemically resistant.
Our Epoxy Floor Coatings
At BRYepoxy, we provide epoxy floor coating application and installation services for commercial and industrial clients throughout the North Vietnam. These epoxy floor coating services include:
3-layer epoxy floor coating
1mm-10mm self leveling coating
Anti-slip floor coating
Chemical resistance floor coating
Striped floor coating
epoxy coating for machinery
Antistatic floor coating
Waterproof coating
Epoxy coating for factory's floor
Epoxy glass coating
Other Epoxy Coating Uses
In addition to being useful as floor coatings or vapor barriers, today, epoxy coatings can be used for a wide variety of purposes such as for adhesives, metal and corrosion resistant coatings, electrical systems components, and a variety of automotive and marine applications. Epoxy coatings and epoxy floor coatings are popular because of their excellent adhesion, chemical and heat resistance, good-to-excellent mechanical properties, and very good electrical insulating properties.
To learn about more amazing uses of epoxy  as well as finding solutions for your workshop, please contact us, our team of advisors will answer all your questions right away.
B.R.Y VIET NAM TECHNOLOGY COMPANY LIMITED
Address: 4M14 Lane 94, Nguyen An Ninh Str.,Tuong Mai Dist.,Hoang Mai Ward, Ha Noi City, Vietnam
Telephone: (+84-4)66873254                                        Hotline :(+84)904 704 969
Email: bryepoxy@gmail.com