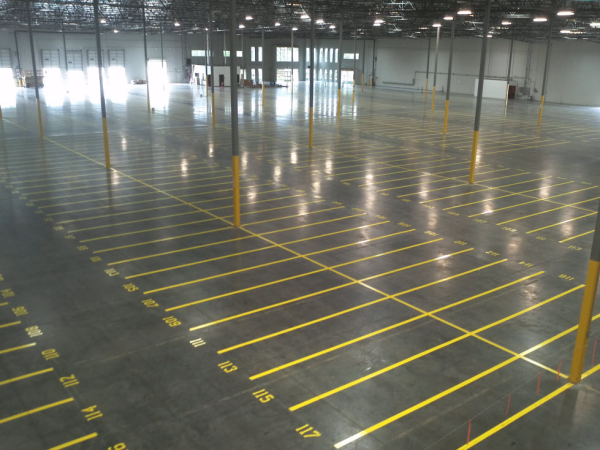 Is epoxy floor striping  necessary in workshops?
Industrial floor striping is the dual purpose product used in distribution centers. Firstly, it is used to improve storage efficiency by clearly designating areas. Secondly, it is used for safety in demarcation for pedestrian access routes, forklift truck aisles and no-go-zones.
It usually takes a long time for machinery and vehicles to move in factories because the lines are faded and need repainting. This also affects production activities. So how to fix that?
Epoxy striping is an option worth considering and indeed necessary because:
6 to 10 times as durable as traditional paint
Long-lasted
Diversity of colors
Low installation cost
Fast drying
If you have needs for such floor striping, we are your solution.
BRY for 5 years, has lead the way in floor coating technology by concrete preparation, floor coating materials and application methods. In all this, durability and a cost effective approach have been fundamental factors.
BRY employs fully trained and insured installation teams who carry out warehouse epoxy floor striping installations on a daily basis. Their attention to detail, knowledge of materials and equipment is second to none in Vietnam, not to mention their appreciation for the customer's needs.
You just need to call and wait for the finished floor. Let BRY do everything for you!
For futher information of epoxy  as well as finding solutions for your workshop, please contact us, our team of advisors will answer all your questions right away.
B.R.Y VIET NAM TECHNOLOGY COMPANY LIMITED
Address: 4M14 Lane 94, Nguyen An Ninh Str.,Tuong Mai Dist.,Hoang Mai Ward, Ha Noi City, Vietnam
Telephone: (+84-4)66873254                                        Hotline :(+84)904 704 969
Email: bryepoxy@gmail.com