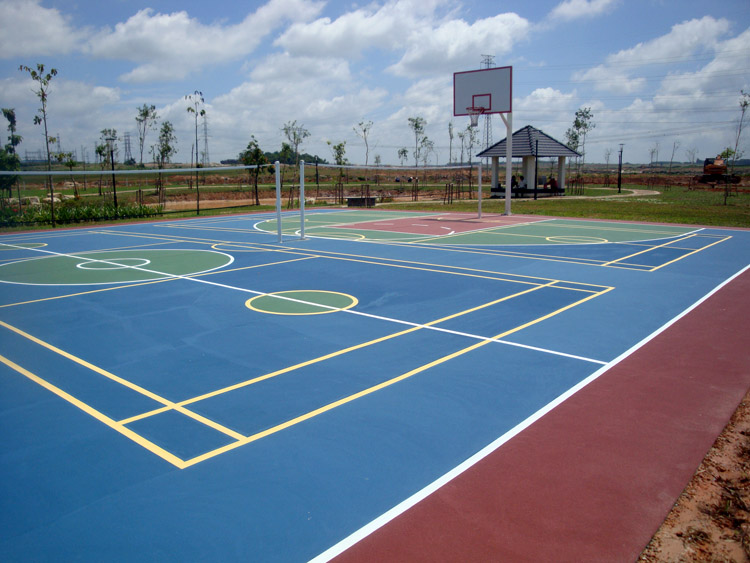 How important is sports floor coating?
Nowadays people's needs for entertainment are rising. Of all sports, the most popular ones are volleyball, badminton, tennis, gym, …. A lot of sports courts, multifunction sports halls, gymnasiums have been built in order to meet those needs. A difficult question posed to all the businesses in this sector is how to create a perfect space for their customers. Along with the elements of interior, floor coating is also very important as sports grounds require special requirements for the activities taking place in safety, comfort and convenience.
So what solution is for sports floor? First let's learn about some of basic sports floor requirements:
It has to absorb shocks in order to minimize the risk of injury. But it can't be too soft, as it becomes tiring for the athletes. The floors friction is possibly the most important factor. Too little friction increases the risk of slipping, while too much friction increases the risk of injuries.
Floor should not be too glossy as strong light may dazzle players'eyes.
Floor should be waterproof  to prevent moss, weed, midew or even unpleasant smell that can lead to difficult conditions for sports activities.
Floor should be clean so that players feel comfortable and excited. The physical activity often takes strength, so players should be able to lay down on the floor when tired. However, to keep the playground clean is extremely difficult because of constantly moving, running, dirt and sweat.
Understanding these features, we can bring you the solution that meets all the requirements. Our sports floor coating has moderate gloss, smooth surface but not too slippery, it overcomes the disadvantages of the concrete floor by fixing the roughness. Moreover, coated sports floor will always be clean, saving washing time and cost.
A more amazing use of our coating suitable for sports grounds is clear line marking. We know that line marking is a concern of many business because using chalk, lime or tape is not the optimum approach. Chalk and lime create dust and are also easily faded. Colored tape looks better, but it's very fast peeled off.
Sports floor coating with various colorse not only helps you get the clear lines, but also build up the aesthetics for your entertainment construction.
With 5 years in floor coating installation industry, we are dedicated to research and development, to ensure that all of our customers benefit from the latest products, methods and procedures in sport surface installation or sports floor maintenance.
Whether your sports floor is old or new our technicians can transform your surface into the sports facility it should be. To enhance your sports surface or promote your club you can choose from a wide range of colours to complement your own individual environment.
All our paint products are made from the highest quality epoxy and polyurethane materials which are frequently tested to ensure durability and the right slip resistance.
For futher information of epoxy  as well as finding solutions for your workshop, please contact us, our team of advisors will answer all your questions right away.
B.R.Y VIET NAM TECHNOLOGY COMPANY LIMITED
Address: 4M14 Lane 94, Nguyen An Ninh Str.,Tuong Mai Dist.,Hoang Mai Ward, Ha Noi City, Vietnam
Telephone: (+84-4)66873254                                        Hotline :(+84)904 704 969
Email: bryepoxy@gmail.com