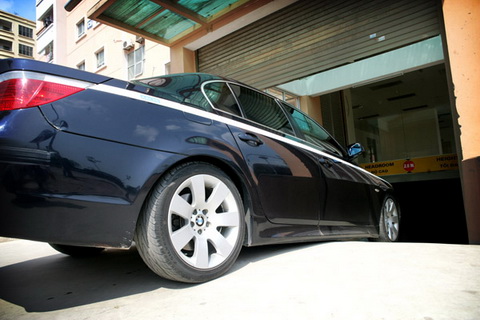 Why is epoxy floor coating considered the optimum solution for your garage?
In addition to having high aesthetics, epoxy floor coating helps your garage to stay sustainable against external impacts such as shock, chemicals, dirt, abrasion. You don't need to worry if you accidentally drop a wrench or a bike onto the floor.
Epoxy coating also helps to fix all the shortcomings such as cracks or small holes in the concrete floor; moreover it is extremely convenient for sanitation. Most of dirt on garage floor is cement powder, oil or dust spots from the car which are easy to clean. So this helps to make garage always clean and customers feel more secure when using repair / maintenance service in such a shiny garage.
Epoxy primer is also a natural moisture-proof layer which is very suitable for hot and humid tropical climate in our country.
The professional engineers and automobile collectors appreciate epoxy floor coating by its benefits such as chemical resistance, easy to clean, anti-slip. The automotive repair tools can not damage the floor. Thanks to the high-gloss of the epoxy coating, your garage will be more or less brighter depending on your choice of types and colors of the coats.
For futher information of epoxy  as well as finding solutions for your workshop, please contact us, our team of advisors will answer all your questions right away.
B.R.Y VIET NAM TECHNOLOGY COMPANY LIMITED
Address: 4M14 Lane 94, Nguyen An Ninh Str.,Tuong Mai Dist.,Hoang Mai Ward, Ha Noi City, Vietnam
Telephone: (+84-4)66873254                                        Hotline :(+84)904 704 969
Email: bryepoxy@gmail.com