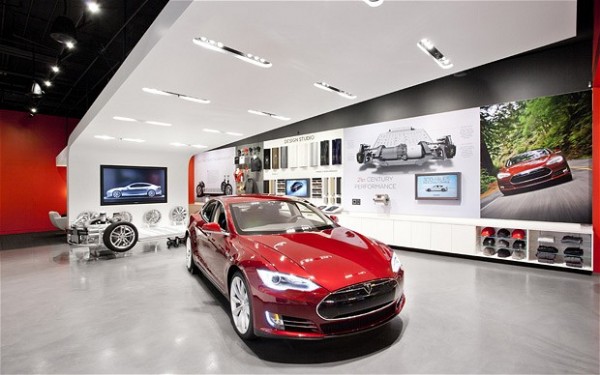 Transform a dull garage floor into a brilliantly colored auto showroom in one long weekend with a durable, professional quality epoxy floor finish.
In car and truck dealerships, as well as other vehicle showrooms, the floors are the foundation for great sales. Walking through the showroom door, prospective customers expect to see new vehicles displayed on elegant, pristinely beautiful floors. The combination of the two inspires passion among car enthusiasts and average consumers alike. With the right epoxy flooring finishes, car dealerships can let the buying fever begin.
Unfortunately, many showroom flooring options currently on the market are less than ideal. A number of these floors are hard to keep clean and bright. Either they tend to absorb stains from new tires, require frequent bothersome care like waxing or buffing, or come with dirt-collecting grout lines—or a combination of all three. Trying to keep up with the maintenance of such floors is a time-consuming and costly headache for dealerships.
Epoxy floor coatings can help the display become more luxurious and appealing. In addition, Epoxy floor coatings for automotive showrooms can bring a lot of other benefits. Self-leveling epoxy paint does not contain high levels of volatile solvent, with outstanding features, the paint meets the requirements of showroom:
Abrasion resistance
Waterproofing, dustproofing
Excellent adhesion
Absolutely flat and shiny surface
Short installation time
Color diversity
With 5 years of experience in epoxy coating and actual installation for the showrooms, we are confident to give you a nice showroom floor of best quality.
For futher information of epoxy  as well as finding solutions for your workshop, please contact us, our team of advisors will answer all your questions right away.
B.R.Y VIET NAM TECHNOLOGY COMPANY LIMITED
Address: 4M14 Lane 94, Nguyen An Ninh Str.,Tuong Mai Dist.,Hoang Mai Ward, Ha Noi City, Vietnam
Telephone: (+84-4)66873254                                        Hotline :(+84)904 704 969
Email: bryepoxy@gmail.com