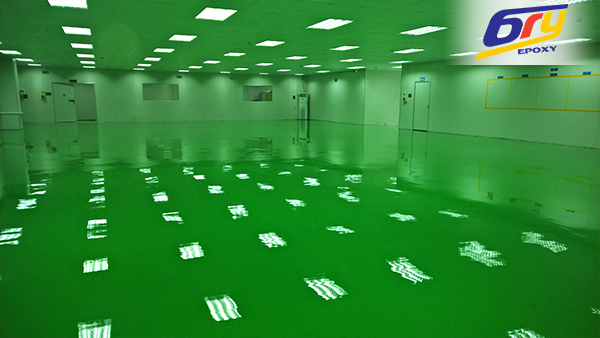 What is Epoxy self-leveling coating?
Epoxy self-leveling coating is a type of epoxy paint based on the principle of self-leveling that can easily cover the surface imperfections on the concrete floor.
Why choose Epoxy self-leveling coating?
If you know the benefits of this product, we are sure that you will not hesitate to choose Epoxy self-leveling coating for your workshop. There are many prominent uses such as:
Being resistant to scratches and external impacts
Being resistant to chemicals and heat
Being anti-slip even when being wet
Creating high-gloss and beautiful surfaces
Creating smooth, seamless, easy to clean  surfaces
Many choices of bright and attractive colors
There is a variety of thickness for various projects
BRYepoxy was recognized and trusted by the Customers to be an option for epoxy self-leveling coating installation for many works such as the electric wires manufacturing factory, garage, tea processing plant, commercial kitchens, hospitals, …
Your house and workshop floors are old and have cracks? Want a shiny durable, eye-catching unique floor? Our epoxy self-leveling coating is the ideal choice for you.
With a team of skilled, well-trained workers and a specific workflow with continuous technical innovations and in-time services, BRYepoxy will bring you a floor exceeded all expectations .
For futher information of epoxy  as well as finding solutions for your workshop, please contact us, our team of advisors will answer all your questions right away.
B.R.Y VIET NAM TECHNOLOGY COMPANY LIMITED
Address: 4M14 Lane 94, Nguyen An Ninh Str.,Tuong Mai Dist.,Hoang Mai Ward, Ha Noi City, Vietnam
Telephone: (+84-4)66873254                                        Hotline :(+84)904 704 969
Email: bryepoxy@gmail.com